Posicharge Forklift 2500 Series Charger Igbt-48v-300a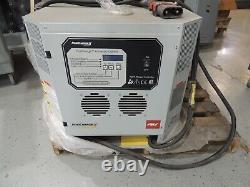 POSICHARGE FORKLIFT 2500 SERIES CHARGER IGBT-48V-300A. PosiChargeT Series chargers are built on the same technology that has earned our award-winning fast-charge line the reputation for delivering reliability and extended battery life.
The 2500 Series can be used in either single or multi-shift operations and is fully compatible with our fast charge line. Operations with a wide variety of trucks, battery sizes, and uses can combine our fast charge line with the 2500 Series under one roof, for the ultimate in flexibility. When a truck plugs into a 2500 Series charger, the charger automatically indentifies the battery's profile and customizes the charge with a unique chargin algorithm stored in its memory. Also standard, the 2500 Series features a stackable, lower profile octagonal design that encourages better air flow and consumes minimal floor space - making it ideal for either in-vehicle charging or high-velocity battery changing.
The 2500 Series is fully compatible with the PosiCharge Battery RxT system. 0.95 Power Factor at Full Load.
Maintains 50 Charge Event Logs. Automatic Shutdown on Disconnection of Battery. Fully Stackable - Up to Three Systems. Multi AH & Multi Voltage. Standard 10ft 320 Euro Output cable included.
4.5% to 5% Finish Rate. Majority of our used items have been removed from factories. Before we removed these items they are assumed to be considered in working condition before removal.
ALL PLUGS ARE DISASSEMBLED, CLEANED, PAINTED, AND TESTED BEFORE COMPLETION. Most used items have some signs of cosmetic wear. Any serious damages will be stated in the condition description. New items were also in factories with some new items partially opened but other new items sealed completely. Since we have a surplus on quantity of any certain item, the picture on the listing may not be the exact product you will receive.
The product will be the same model and make but the cosmetic wear may be slightly different. With every new or used item we list, our goal is to bring you the most accurate information about that particular product. We will provide as many pictures as we can to truly represent our product correctly and you always have the option of requesting more pictures or contacting us to ask questions.
Information provided about products is to the best of our knowledge. Some items we will have more information about than others. We have ZERO desire to purposely misrepresent our products.