Hobart 380A1-12 Battery Charger 12 Cell 24 Volts 226-380 AH 76 Amps 240/460V 1ph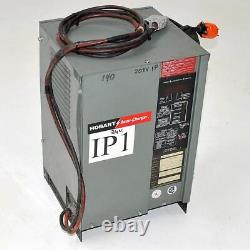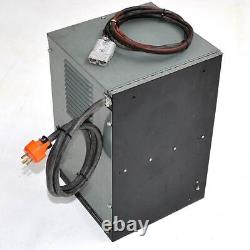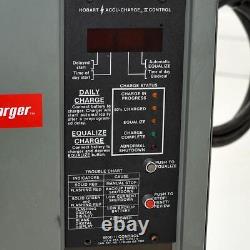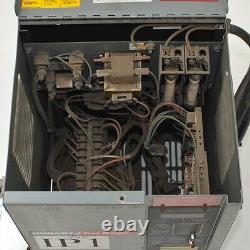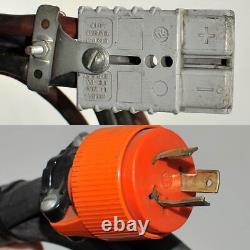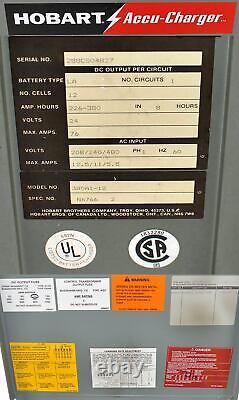 Hobart 380A1-12 Battery Charger 12 Cell 24 Volts 226-380 AH 76 Amps 240/460V 1ph. Please send the following info. This charger is in Fair cosmetic condition. The case has many scuffs/scratches from prior use. The output cables have several places where the insulation has been covered with electrical tape.
This charger is in Good working condition. When we connected it to a battery, it began charging automatically and showed the current output on the panel meter.
The twist-lock power plug fit in our main socket but did not twist to lock. No other testing was done. No manuals, cords/cables, or additional items are included if not listed or shown. (1) Hobart 380A1-12 Battery Charger. For 12 cell lead-acid battery.
Rated to charge 12-cell 226-380 AH LA battery in 8 hours. AC input ranges: 208/240/480V 60Hz 12.5/11/5.5A.
Marked as configured for 240V single phase power input. Power output: 24 volts nominal, 76 amps. With optional 900CII Hobart Accu-Charge II Micro Controller. Charging rate range can be adjusted with internal jumpers. Mains voltage can be switched from 208/240/460V with internal jumpers.
Twist-lock plug fits our 250V 30A receptacle. Box size: about 15" x 14" x 23H. For questions regarding this item, please reference the SKU to help us better serve you. This item is guaranteed to be as described. DougDeals reserves the right to refuse service to anyone that does not comply with the terms listed and linked here.
The sole and exclusive venue for any lawsuit arising out of or relating to this agreement shall be the Travis County Civil Courts of Travis County, Texas.